7 of the Best Kids' Afternoon Tea, London in 2020. There are some quite outstanding children's afternoon teas in London, from Alice in Wonderland themed to Charlie and the Chocolate Factory themed! My children love an afternoon tea, with delicious finger sandwiches and stacks of scones and tiny cakes! Have a look at some of the fabulous afternoon teas for kids in London.
Taj, 51 Buckingham Gate, London
We visited this fabulous Alice in Wonderland Afternoon Tea in London recently and the kids absolutely loved it! The whole experience was a delight from start to finish. The table was beautifully decorated for our arrival and then dish after dish was brought out, all impeccably displayed and beautifully crafted. Far more than you could ever eat – you'll be taking a box home too! It really was one of the best afternoon teas for kids!
Read our full review of the Alice in Wonderland Kids' Afternoon Tea here.
One Aldwych, London
Fizzy lifting drinks, snozzberry jam, chocolate milkshake mixed by waterfall… Indulge your inner child and adventure into the magical, mouth-watering world of Charlie and the Chocolate Factory with our enchanting afternoon tea – inspired by the Roald Dahl's iconic story, One Aldwych's Executive Chef and, of course, pure imagination.
In the heart of London's theatreland, warm up with scrumptious savouries such as our meal-in-marshmallows and cheddar scones with bacon toffee jam, then journey on to Loompaland lemon floss and plates piled high with Wonka-worthy cakes, sweets, mousses and scones – all washed down with chocolate or lemon sherbet tea, swimming pool fizz or pistol punch cocktails, or fizzy lifting Champagne. Spot on for spectacular special occasions or just indulgent afternoons immersed in one of the tastiest tales ever told. Ideal tea for kids.
Cutter and Squidge, London
Leave the busy streets of London behind as you descend downstairs into the potion class. Get cloaked up, and then take your seat at the school-style desks and await your Potions Master. They will have you whisking up potions and all manner of concoctions in no time.
Children's Menu – For all young wizards and witches! A smaller version of our fantastical afternoon tea, with a Galaxy Juice and a fun Crackling Cauldron starter potion class, and delicious finger sandwiches, as well as plenty of magical desserts.
The Waldorf Hilton, London
Guests will be welcomed with a magical sugarplum mist, filling the table and preparing your senses for a theatrical twist on The Waldorf Hilton's afternoon tea experience. Start your journey with an amuse bouche that changes before your eyes, leading into a colourful twist on some of The Waldorf's favourites. Enjoy salmon blinis, house smoked beef and pumpernickel too, with an array of closed sandwiches that the talented chefs have created for you. There will be purple loaf bread and floral spreads, all to prepare you for the main event, an assortment of delectable delights. The Waldorf proudly presents its very own sugar plum jam accompanied by some of the classics such as clotted cream and something for strawberry fans – the ideal treat to be paired with freshly baked scones that have some twists of their own. As the story continues, so do the delights – there will be plum fairy biscuits and chocolate trifles prepared just-right, not to forget the pistachio and chocolate filled sandwiches. A lovely family-friendly afternoon tea in London.
Mary Poppins Afternoon Tea for Kids
Aqua Shard, London
Take a trip down memory lane with an exciting new afternoon tea inspired by the much loved work of P.L. Travers.
Available until Sunday 3rd November 2019, at aqua shard on level 31, guests will be taken on a playful journey down memory lane, with an exciting series of nostalgic and creative sweets and savouries that pay homage to Travers' books.
Guests will be immediately immersed in Travers' imaginary world, as they are presented with a menu that takes form as a gilt gold framed mirror – a recurring symbol throughout the books depicting Mary's vanity and her 'practically perfect' reflection.
Served on a custom-made tea stand with an umbrella on top and silver booted feet below – with crockery that comes to life with Mary Shepard's original illustrations of Mary Poppins – the tea will follow the format of a quintessentially British afternoon tea with unconventional twists.
To start, the savoury selection will include traditional finger sandwiches (Cackleberry farm egg and truffle, Dingley Dell honey roast ham and mustard, Ploughman's and a Devon crab and cucumber brioche), as well as crumpets – Mary Poppins' favourite – with miniature versions served warm with smoked salmon and cream cheese.
Peter Rabbit™ Family Afternoon Tea
The Terrace on Piccadilly
The Peter Rabbit™ Afternoon Tea lets children and grown-ups alike enjoy their favourite childhood story with tasty treats from chamomile chocolate pots to vegetable patch sandwiches. Enjoy the new exclusive afternoon tea for a limited period of time, for only £35 per adult and £25 for the children's version of the afternoon tea.
Pastries include the beautiful Flower-Pot Hideout, a chamomile mousse inside an edible chocolate pot and flavours harking back to Peter's warming bedtime tea after his adventurous day.
You will love the eye catching Magnificent Mushroom of strawberry ganache with a crunchy meringue stem, as well as Every Bunny's Favourite, a delicious carrot cake.
A selection of fresh scones, jams and clotted cream come served alongside the tea
The Savoy, London
The Tiger Who Came To Tea, written and illustrated by the doyenne of children's literature Judith Kerr, has charmed children and parents alike since its first publication in 1968. The Savoy has teamed up with HarperCollins Children's Books to commemorate the fifty-year anniversary of Kerr's treasured classic through the launch of a unique children's Afternoon Tea – The Tiger Who Came to Tea at The Savoy.
For what is The Savoy's first children's Afternoon Tea offering in its 129-year history, the iconic picture book has been transformed into a feast of teatime treats that draw inspiration from the tea that Sophie and her mummy shared with a visiting tiger in the story. The Savoy's pastry team has created a whimsical menu that will enchant children and bring delight to all grown-ups who are nostalgic for classic bedtime stories. The tea will be served on bespoke chinaware also inspired by the story and available to buy from Savoy Tea.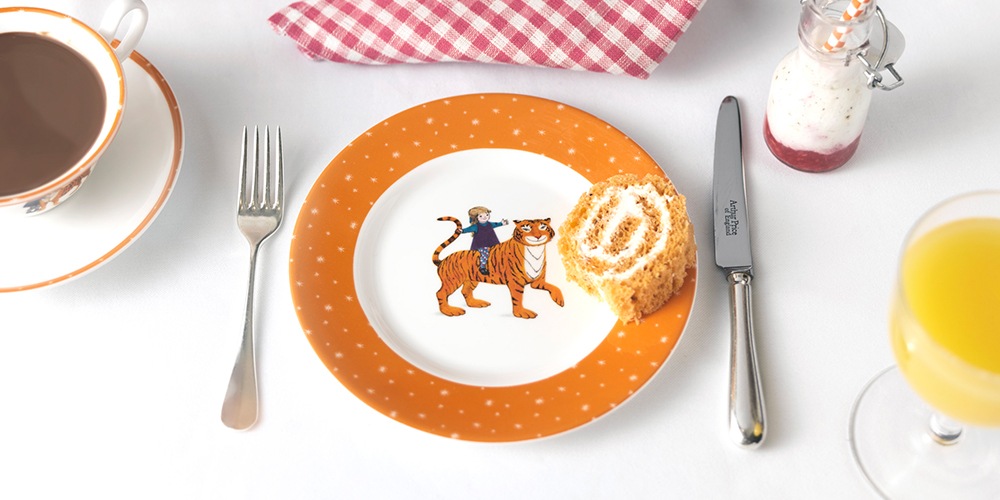 In the golden anniversary year of The Tiger Who Came To Tea, the inimitable tiger is being be celebrated in a host of exhibitions, plays and tea parties taking place across the country. In June, The Savoy was honoured to welcome Judith Kerr to the hotel to celebrate her 95th birthday and is thrilled to be transforming her gem of children's literature into an unforgettable feast of the imagination.
The Tiger Who Came To Tea at The Savoy is priced from £40 per child and comprises sandwiches, tiger striped scones and pastries that playfully reference moments in the book.